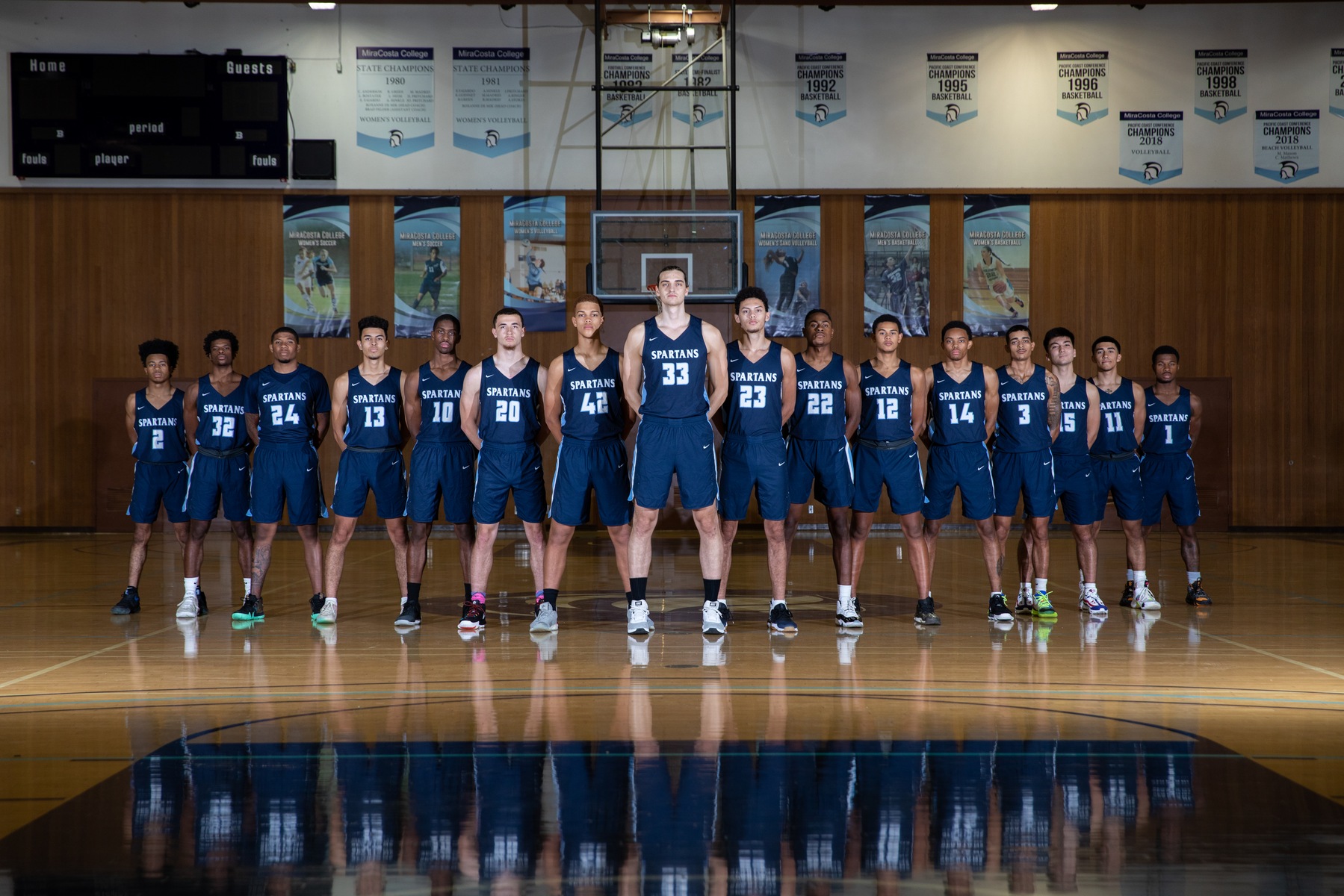 Coach Ryan Frazer went home and took his team back to Antelope Valley College for the Gregg Anderson basketball tournament. Frazer, who coached at Antelope Valley for a number of years, took his MiraCosta men's basketball team with a 3-3 record to face off against Ventura College in the first round.
Ventura got off to a hot start outscoring the Spartans 40-28 in the first half. MiraCosta won the second half 47-45 but it wasn't enough to overcome the first have deficit. Lamont Couch Jr led the way with 22 points, five assists and five steals. Marcus Foster added 18 points including six three-point shots and Dirk Helaire Jr contributed a well rounded 16 points, 11 rebounds and four steals. The Spartans only turned the ball over 14 times but were outscored at the free throw line by sixteen points.
In the second game of the weekend MiraCosta took on Rio Hondo College and controlled the game for forty minutes. After leading by six at halftime the Spartans outscored their opponents by 11 in the second half to cruise to a 75-60 victory. The scoring was balanced for MiraCosta with six players scoing eight or more points. Dirk Helaire Jr led the way with 16 points and 12 rebounds. Marcus Foster remained hot from behind the arc shooting 4-7 from the three-point line and a total of 12 points. Lamont Couch Jr added 12 and Devynn Wakefield and Stone Parker both scored 10 to help the Spartans move on to the consolation championship.
In the final game of the tournament MiraCosta was matched at LA Pierce College. The two teams faced off in the first game of the season which resulted in a 91-81 Spartan victory. Both teams had more experience now so this would be a good indicator of progress. LA Pierce jumped out to a quick lead that had MiraCosta go to halftime down by 13. In the second half Lamont Couch Jr took over and helped the Spartans outscore the Brahmas 38-20. With the hot second half and lock down defense MiraCosta won the game 66-61. Couch Jr made 10-11 free throws and also had four assists. Carter Plousha added 10 points and 10 rebounds in 22 minutes of play.
MiraCosta is next in action on Wednesday at home against Palomar College at 6PM.